SMDC sees bright prospects for the real estate sector in 2023
BY Manila Bulletin
• 3 min. read
Encompassing the truest hallmarks of nation-building, SMDC makes its mark in the region as it was hailed Southeast Asia's Best Developer at the recently held Dot Property Southeast Asia Awards 2022. The awarding ceremony was held in Bangkok, Thailand, and attended by the brightest minds in real estate.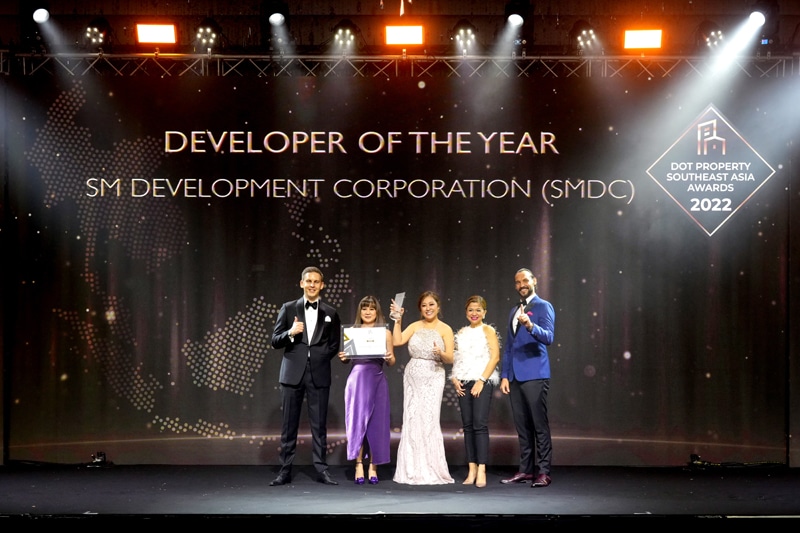 In 2022, the Philippine economy grew between 6.5- and 7.5-percent, and forecasts for 2023 project it to grow between 6.5- and 8.0-percent. The country's real estate sector was steadfast and resilient in 2022, demonstrated by the increase in pre-selling of condominium units in Metro Manila and growth in the demand for luxury developments. These trends are expected to continue in 2023, as buyers and investors count on the capital appreciation of said projects.

"From the affordable to the high end, sales have still been quite stable. The slow down hasn't reached the Philippines yet, because our economy has certain features here that differentiate us from other countries: the strong overseas remittances, the young market, and BPO sector. The biggest growth driver is the shortfall in housing of about six to eight million units. There will always be a strong demand for housing," said SM Development Corporation (SMDC) President Jose Mari Banzon.

In 2022, SMDC launched three projects and turned over three more in different parts of the country. SMDC's commitment to build innovative and affordable homes has made the company one of the Philippines' fastestgrowing real estate developers. Its thoughtfully-crafted communities center around homebuyers' needs, lifestyle, and convenience, which were acknowledged by award-giving organizations, such as the 2022 Dot Property Philippines Awards (which accorded SMDC eight awards) and the 2022 PropertyGuru Philippines Awards (which gave it seven awards). In the 2022 Dot Property Southeast Asia Awards, SMDC collected the awards for Southeast Asia Best Developer, best landscaping architecture, and best condominium architectural design, and received special recognitions for its corporate social responsibility program.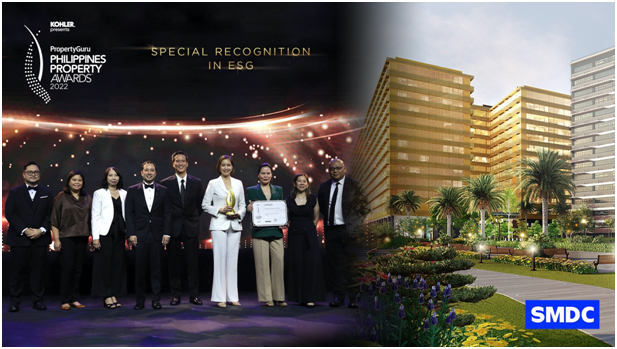 Grace Evangeline M. Sta. Ana, SMDC Executive Vice President, along with the leaders and multi-talented teams at SMDC, smile triumphantly as they receive a special recognition in Environmental, Social, and Governance (ESG) at the 10th PropertyGuru Philippines Property Awards. The recognition is a testament to their long-standing commitment of building and taking care of sustainable communities nationwide.
SMDC properties have green areas, open spaces and landscaped features for environmental sustainability, which has drawn further recognition. SMDC Vine Residences won the Best Landscape Architectural Design award from Dot Property Southeast Asia Awards, and SMDC Shore Residences was recognized as the Best Condominium Landscape Interior Design in the PropertyGuru Philippines Awards
SMDC is undertaking master-planned community developments, located in prime areas to access major thoroughfares, transportation hubs and central business districts. Its first township, Gold City, an 11.6-hectare development which integrates residential, commercial, and residential-office components located across the Ninoy Aquino International Airport, was accorded the Best Township Development by Dot Property Philippines and Best Mixed-Use Development by PropertyGuru Philippines.
SMDC's program to nurture sharing and caring communities encourages collaborations among SMDC employees, residents, and LGU and barangay authorities to organize outreaches, clean-up, medical missions, job fairs, and other services to barangay communities. For this, SMDC received special recognition for Corporate Social Responsibility from Dot Property Southeast Asia and for Environmental, Sustainability, and Governance from PropertyGuru Philippines.
SMDC looks forward to making 2023 a strong year. It will have four recently-completed projects for turnover and will continue to make available thirteen ready-for-occupancy projects. It will soon disclose new projects for launching and pre-selling, located in various parts of the country.
These awards reflect SMDC sensitivity to the needs and preference of the homebuyers and investors by integrating and including such features, amenities and values into its properties. The awards also acknowledge the expertise and core strength of SMDC to build well-planned, world-class communities.